Renovating or Remodeling? Use Wall Heaters
4 min read
Are you planning a renovation? Do you have baseboards that dictate your room layout? Whether you're simply updating the decor or taking on a larger project with a contractor, why not take a few minutes to consider your options for electric heat. You may be surprised to learn that fan-forced wall heaters provide fast, quiet heat - and you'll be thrilled to take charge of your room layout, too.
Increase valuable floor space, everywhere!
Often  family rooms include large sofas and entertainment units, we quickly run out of room set-up options when we have to work around entrances, windows and baseboard heaters. In bedrooms, having a baseboard heater typically means having only one option for positioning the bed. But there's no need to lose valuable wall or floor space with a long, old-fashioned baseboard heater. Cadet fan-forced wall heaters take up a fraction of the space and deliver the same amount of heat—more efficiently. If you're planning even a simple makeover, consider going that extra step - replacing an electric baseboard in a room can buy back space to give you the room design you've always wanted.
An ideal pick for bathroom renovations
In some rooms, space is truly at a premium, such as in the bathroom. Bathroom renovations are important to keep up your home's value, and usually worth the investment in upgrades. Don't forget that a space-saving wall heater helps maximize your floor space and make the most out of your renovation.
Also, installing wall heaters in laundry, mud rooms, or entranceways lets you reclaim wall space where storage is paramount. Imagine having the flexibility to incorporate a much-needed storage unit, hall tree, or cubby.
Smaller, faster and smarter - and quiet
Cadet wall heaters use quiet fans to provide quick heat and energy efficient comfort. If you're wondering whether our wall heaters are loud, we think you'll be pleasantly surprised with how quiet and quickly they work. Check out our Energy Plus, Com-Pak and Com-Pak Bath heaters for your renovation. At only 9" wide x 12" high, you'll barely need to consider their size when designing your updated space!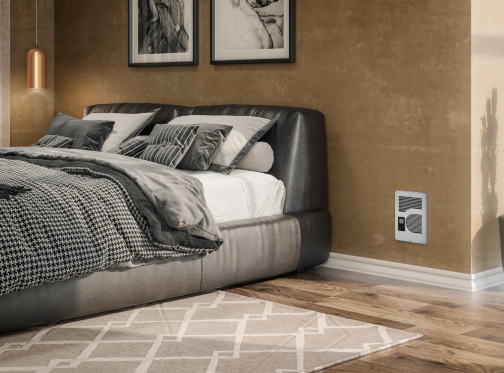 Energy Plus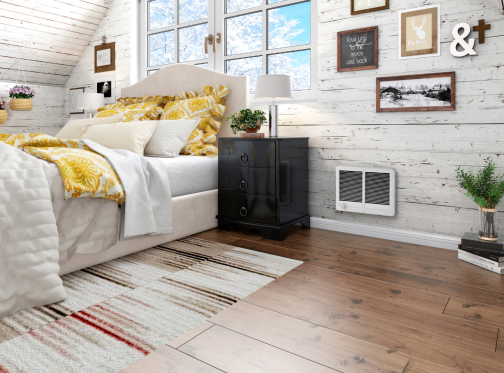 Com-Pak
Remember: Check your voltage
It's a common mistake to grab a 120-volt electric heater when most homes use 240 volts. The wires look exactly the same, black and white. Hooking up the wrong voltage will zap your heater if it's only 120 volts. If you aren't sure what you need, it's always best to hire a professional, or call and speak with one of our technical service reps. They are very knowledgeable.