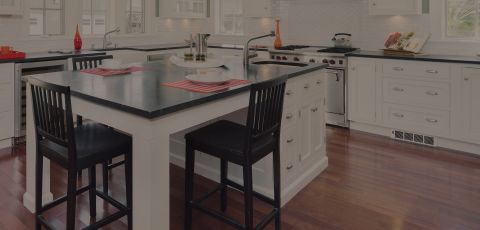 How to Install
Detailed installation instructions can be found in your Cadet Owner's Manual. Although some of our products are simple enough to DIY install, we recommend our wired products be installed by a someone comfortable with working with electricity.

Watch our step-by-step how-to videos
Installation FAQs
That really depends on your comfort level and experience with electrical work. To help you decide whether you can tackle a project like this, read through the owner's guide for your product. Simply visit the product page on our website and download the guide. If you need to install a new circuit or need additional wiring information, our recommendation is to consult a qualified electrician. If you want to install a heater yourself, make sure you're complying with the National Electric Code (NEC), the Occupational Safety and Health Act (OSHA), and all state and local codes.
Use screws to secure the baseboard heater to the studs in your wall by using the pre-punched "stars" at 1 inch intervals on the back of the heater. See the Owner's Guide for detailed information on installing your baseboard heater or watch this video.
No—the best way to control your baseboard heater is with a thermostat
You must use a voltmeter. Please note: Testing with a voltmeter requires the circuit panel or fuse box to remain on. If you're unfamiliar or uncomfortable with electrical wiring, please contact a qualified technician or licensed electrician.
No, that's not safe. In fact, please keep furniture, paper, bedding, as well as drapes and curtains away from the heater. Keep safe clearances around your heater so nothing is blocking the flow of air. A good guideline to follow— for baseboards, allow 12 inches of clearance in front of the heater and six inches on the side and above; for fan heaters, allow three feet of clearance in front of the heater and six inches to the sides and above. Your product Owner's Guide contains safety requirements and recommendations.
If you have pre-existing wiring, check the voltage of your electrical circuit and install a heater with the same voltage. Both 120 and 240 volt heaters operate with the same output and use the same amount of electricity for any amount of time. 240 volt heaters require double pole breakers, and 120 volt heaters require single pole breakers.

See chart below (per NEC code):

Volts AC
120

240

240
Size of Breaker or Fuse
20 Amp Single Pole

20 Amp Double Pole

30 Amp Double Pole
Wire Size
12/2 with Ground

12/2 with Ground

10/2 with Ground
Maximum Watts on Circuit
1920

3840

5760
We recommend that you install your heater on an inside wall, however, you can install it under a window or by a door, just be sure the door does not swing in front of the heater path.

If you do install an electric heater on an outside wall, make sure:
The heater is not blocked by drapes

There is no electrical receptacle above or below the heater

Airflow is not blocked by anything, such as an open door
Our standard baseboard heaters come with universal wiring on both ends of the unit, which means you can connect it to power on either the left- or right-hand side of the heater during installation. When you're using the right side of the baseboard, things are pretty straight forward: Cut the one factory connection available and use those wires to connect your heater to power. Things may seem a little more tricky on the left side because there are two factory connections available. That's just the way things have to be for our heaters to work. But just like when wiring on the right side, you only need to cut one connection to install your heater. Our owner's guide suggests you use the connection that has one wire that leads to the top and one wire that leads to the bottom of the wiring box on the baseboard. If you're confused, just take a minute (or 50 seconds to be precise) to watch our video. Thomas with our Tech Support team will walk you through the process.
Need to find replacement parts?
Browse our range of genuine Cadet parts and accessories to help with your installation.