What's the Difference Between UL and ETL
3 min read
Apex72
Our Apex72 electric wall heater is ETL listed, which means that it was independently tested and conforms to Underwriters Laboratories standards.
We know that the safety of our products is something very important to you as a customer and many of our customers look for standards set by UL as the ultimate symbol of safety on a product. We put a big emphasis on the safety of our products and have all our products listed with either UL or ETL. That might lead you to wonder: What exactly is the difference between UL and ETL? The simple answer is not much. If you want a more elaborate answer, both are independent testing agencies that test to make sure that products meet safety standards set by Underwriters Laboratories (UL). Wait.... what??! Let me break it down for you:
Apex 27 Wall Heater
Com-Pak
This Com-Pak Bath heater is certified by Underwriters Laboratory that it conforms to UL standards. UL the company does two different things. First, it establishes safety standards for products. Second, UL acts as an independent testing agency that make sure products meet those standards. Intertek, which manages the ETL label, is also an independent testing agency and it, like UL, uses standards set by Underwriters Laboratories. So, whether our heaters have a UL or ETL label, they're both tested by independent testing agencies to make sure they meet UL safety standards for electric heaters. "Both UL and ETL are reputable testing companies and they both test to the identical standard," Cadet Engineer Dragos Craciun said. In other words, if you follow our clearance requirements, hook up your heater to the proper power source and use them in conjunction with the correct parts as intended, your heater meets the UL safety standards.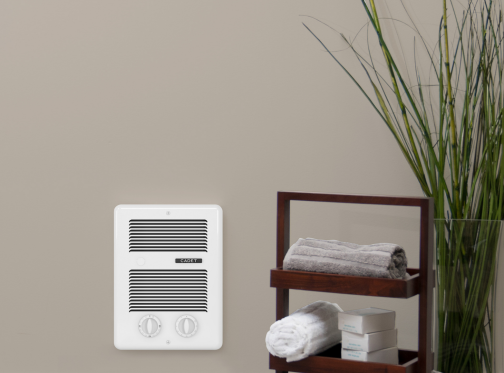 Com-Pak Heater
Now that you know the differences between a UL and ETL, its up to you to decide which one is best suited for your heating needs.