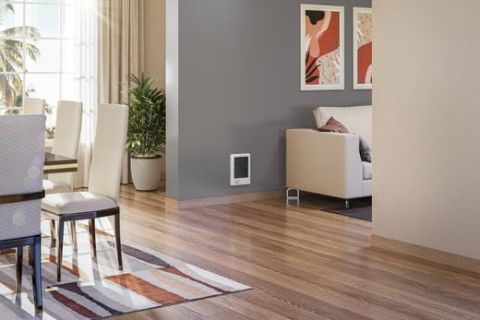 Why Should You Upgrade Your Old Baseboard Heaters in Your Rental Property?
6 min read
 An upgrade that really pays off
As a property owner, you are well accustomed to weighing the cost of upgrades against the return you will see. We have great news about making the switch from baseboards to wall heaters! The investment delivers immediate measurable benefits for you and your tenants. While gaining floor space and quicker heat is one upside, you will enjoy energy savings instantly.
The problem with baseboard heaters
Older baseboards are simply space hogs and create limitations on furniture placement, particularly in living rooms and bedrooms. So, for tenants, baseboard heaters dictate how they use their limited space and that's not positive when you're trying to rent. Given little choice, some tenants will still place furniture and drapes in front of baseboards. In small bathrooms, a baseboard heater is commonly close to hanging towels and shower curtains.
Blocking baseboards with furniture, curtains or any other flammable material is unsafe, heats only the furniture or curtains and impedes maintenance visits. Having to move couches, beds, and drapes in order to inspect or fix baseboard heaters is time-consuming. On top of these issues, old baseboard heaters don't provide quick comfort to tenants. Baseboards work passively, through convection (or the natural movement of warm air rising), so if air circulation is limited, getting comfortable takes longer than it should.
The upside of wall heaters for tenants
Why not liberate tenants from the space restrictions that baseboard heaters create? Did you know that a 9" x 12" wall heater provides the same 2000-watts of heat as an 8-foot baseboard? Not only will tenants gain floor space, they'll enjoy quicker heat because Cadet wall heaters use a fan to quickly push warm air throughout the room. Updated electronic thermostats will allow tenants to easily and precisely control the heat level in each room - which is great for maintaining their comfort and for energy efficiency too.
Getting started with Cadet wall heaters
While the upfront cost is more, wall heaters (especially with an electronic thermostat) will reduce electricity bills, reduce maintenance calls and create refreshed units with maximum flexibility for room layout. Plus, tenants will be more attracted to stylish heaters that offer quick, efficient heat. Let's take a look at several great thermostat and wall heater options.
Cadet Thermostats
Cadet offers non-programmable electronic thermostats that are simple to use and are ideal for pairing with wall heaters. And, the precise digital temperature setting eliminates temperature swings that are common with older thermostats. We also offer programmable thermostats that give you more advanced options like 7-day programming (with four daily events and four quick modes) and security lock function. To take a look at what thermostats would work best at your property, check out our Thermostat Selection Guide.
TEP Thermostat: 7-day programming options with 4 daily events and 4 quick modes including early start, vacation, comfort and economy along with precise temperature control and 72-hour memory back up are just some of the many features built into these programmable line voltage thermostats.
TEN Thermostat: These models include many of the same advantages without the programming: accurate temperature control for comfort, capacitive touch controls, a large and easy-to-read backlit display, all with additional energy savings.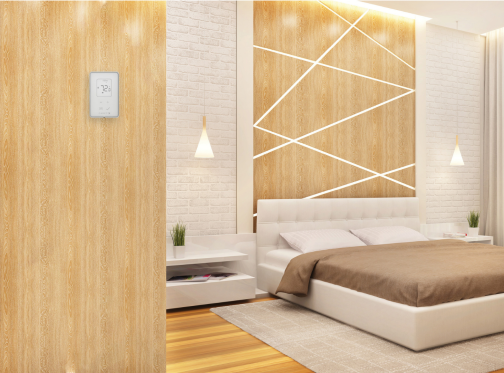 Cadet Wall Heaters
Com-Pak
This discreet 9" x 12" heater warms up quickly with a fast-heating coil element and spreads the warmth in the room with an efficient, quiet fan (available with and without built-in thermostat). Smartly designed, with no sharp edges, the Com-Pak offers horizontal and vertical mounting options, as well as ceiling installations - a great idea for small bathrooms. (120 and 240/208 models, up to 2000-watts available).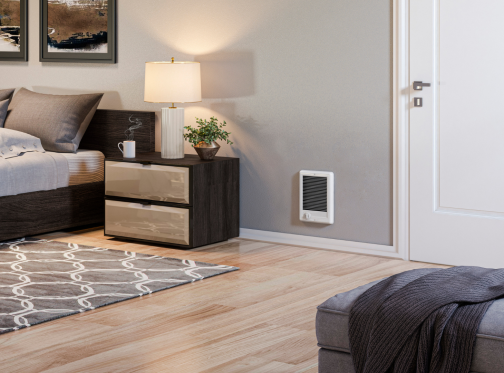 Energy Plus
This smart heater uses up to 30% less energy than regular wall heaters. The Energy Plus features a built-in digital thermostat with simple controls and a large digital display. The precise temperature control eliminates wide temperature swings and tenants can use the fan-only mode (without heat) to keep air circulating in the room year-round. Plus, tamperproof settings let you set minimum and maximum temperature points in areas where you need this control.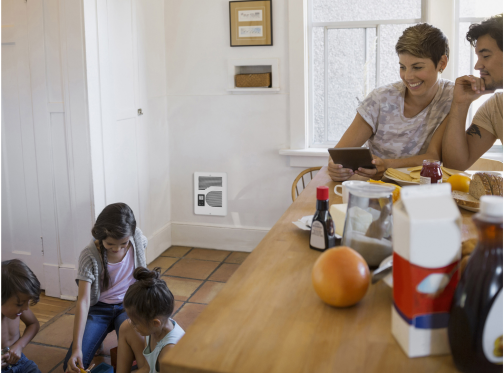 Cadet offers a wide range of heating products to suit your unique property, including a range of wall heaters, SoftHeat heaters, baseboard heaters, specialty heaters and thermostats. So, why not make an investment that pays off in so many ways?