Extend Your Outdoor Living Season With Electric Heat
6 min read
Patio season isn't just a season; it is a year-long mindset! With a little time investment and some amazing electric heating products, we can extend the outdoor season - wherever that might be for you and your family. Adding supplemental electric heat with a simple renovation lets, you enjoy those add-on living spaces for longer, whether you'd like to work in comfort in your garage, enjoy cool, starry nights in your gazebo or even spend some holiday time at the trailer. And, keep in mind, if you get this checked off your winter reno list, you can enjoy your 'outdoor' spaces right up to Spring.
Garage or Workshop Heaters

 
For the handyperson or crafter, it's worthwhile to create a comfortable garage or workshop in which you can spend quality time. Plus, it's safer and easier not to have bulky warm clothing when working with tools. With Cadet, you can choose from a range of heaters that require a 240V outlet as you have for your kitchen oven or clothes dryer. If you don't have one in place, you may need an electrician to put in a 240V outlet - but once it's done, you're all set.
Our powerful, 4,000-watt Garage/Workshop Heater includes a swivel bracket that can attach to the wall or ceiling, so it is safely out of the way and doesn't take up any valuable floor space.
We also have our sister GDA brand Dimplex, which has a construction heater that works well in a workshop or a garage as it has an enclosed durable motor. The heater has a built-in thermostat and foot stand for angled positioning, allowing for more controlled heat distribution.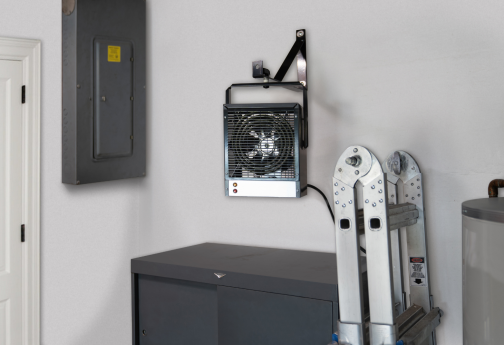 Outdoor Gazebos
Outdoor heaters are a hot commodity these days! Most people are familiar with the propane heaters commonly used for restaurant patios. The truth is electric outdoor heaters are easier to operate, safer and less intrusive - you simply need to supply the right wiring ONCE, and you're done. There were no heavy tanks to refill, no manual lighting, and no lugging from place to place. Dimplex, our sister company, offers some of the industry's best electric outdoor heaters. These high-quality products are incredibly durable and can be wall-mounted, ceiling-mounted or installed using a permanent stand. These premium heaters are a fantastic upgrade for your outdoor living space: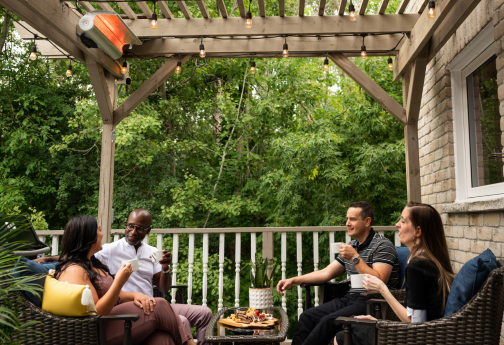 Cottages or Trailers
Wouldn't it be great to get away just a few more times this year? Once the busy summer months are over, and we enter the chillier months, you can focus on a simple renovation that will help in the colder season and pay off any time of the year when you need some additional heat. Our Cadet wall heaters are efficient, space-saving, and simply ideal for quick zone heating of key areas in your cottage. You'll never have to worry about fuel tanks or supplying wood when you go electric! Electric heat is quicker and more precise than gas or wood stoves - those tend to overheat spaces and take up more space. Imagine being able to head to the cottage early next spring with your new electric heaters installed and ready to go.
Cadet Com-Pak wall heaters are also installed out of the way, so you don't have to sacrifice valuable floor space as you would with a wood or propane stove. Plus, there's no fuel, fumes or excessive heat to worry about. One simple renovation with an electrician and you're all set for years of comfort in cooler months.
Since our kitchen spaces are central for cottages and RVs, a sensible and discreet electric option is the Cadet Perfectoe or kick space heater, which is designed for installation under cabinets.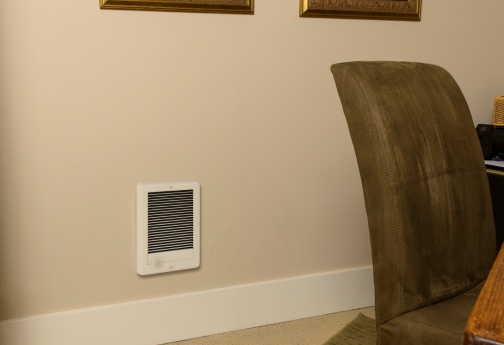 Installing supplemental electric heating in spaces where you have a higher exposure to the elements - like garages, gazebos or trailers - can provide a more comfortable and seamless indoor/outdoor living experience. However, it can be hard in some regions to get tradespeople to your home quickly - they're SO popular. If it takes a couple of weeks, why not use that time to plan out your workspace or your outdoor lighting and seating for the colder months? Any time of year is a good time to make smart upgrades to your home. Adding safe, efficient electric heat so you can better enjoy those extended living areas makes perfect sense!