Everything You Want to Know About SoftHEAT Hydronic Baseboards
5 min read
Our baseboards are known for their silent operation, quality build (made right here in North America), and naturally the reliability of keeping you warm when you need it most. And, our SoftHEAT hydronic baseboard features everything that's great about our standard baseboard and takes it to the next level with benefits that improve comfort, save on energy use and make it a great choice for homes with kids or pets.
What is a SoftHEAT Hydronic Baseboard Heater?
The Cadet SoftHEAT hydronic baseboard uses a non-toxic mineral oil to deliver consistent heat to your room.
So how exactly does the SoftHEAT hydronic baseboard improve energy efficiency and comfort? It's all about the element.
A standard electric baseboard generates heat when electricity passes through a heating element. The element spreads heat to the surrounding air through metal fins attached to the element.
With SoftHEAT, the heating element is enclosed in a copper tube that's filled with a non-toxic mineral oil. The element heats the fluid, which disperses the heat to the aluminum fins along the heater tube. It may sound like a subtle difference, but makes a world of difference. That mineral oil holds onto heat when the element switches off, which provides consistent warmth into and minimizes temperature fluctuations in your room. In other words, it keeps you more comfortable while saving energy.
The enclosed element also comes with lower surface temperatures than a standard baseboard. That's great for homes with children. It also helps those with allergies because the heater doesn't singe airborne particles in the air or dry out the air like a standard baseboard.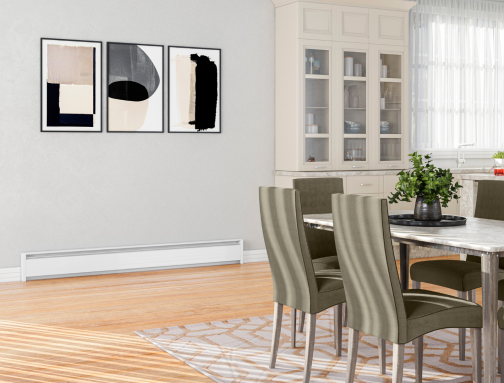 SoftHEAT Hydronic Baseboard Heater Product
What are others saying about the SoftHEAT hydronic baseboard?
While the investment may be more than than a standard electric baseboard, it will ultimately keep you more comfortable in your home, and provide peace of mind with low temperature surfaces. Is that worth the investment?
See what others are saying who've made the switch:
"I have electric heat throughout my house. I began to replace my 45 year old electric registers with Cadet SoftHEAT a few years ago. I like the smoothing out of heat curve and the lack of dust. I have noticed my energy usage has dropped as well, but I can't solely credit that to Cadet as I've also replaced the thermostats for the units as well."
-Anthony, East Granby, CT
"I installed one my bedroom, it's very quiet when on and gives me an even heat throughout the whole room. Thanks for great product!"
-Rita, Kalispell, MT
" We added a sun room/guest bedroom addition and we're not able to extend furnace ducts from original house. Our electrician suggested that two Cadet Baseboard Heaters would heat the room beautifully. We went with his suggestion, adding two SoftHEAT Hydronic baseboards. The room is very comfortably heated. We have confidence that the heaters will keep the room comfortable, especially when we have overnight guests."
-Johnathan, Spring Hillsboro, WI
"We had a spare bedroom where the heater was missing but the old thermostat was still installed. It required a 240V unit. The Cadet SoftHEAT Hydronic Baseboard Heater was a perfect size and provided a great direct replacement solution. It's quiet, heats well, and the price was right."
-Doug, Scotts Valley, CA