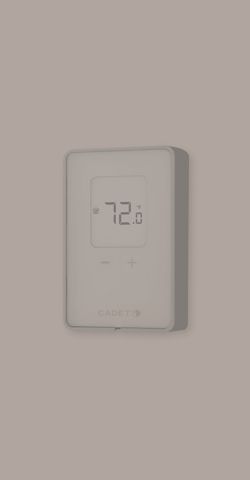 Electric Heater Thermostats
Convenient wall & built-in thermostats, precise temperature control
Thermostat FAQs
No, but that's okay. Cadet heaters allow you to quickly warm up the rooms you're in, instead of the ones you're not. You can use individual thermostats to easily control the areas you need to heat.
Always mount a thermostat on an inside wall away from drafts, direct sunlight, or any appliances that could affect its temperature reading. Make sure the airflow around the thermostat isn't blocked by shelves, pictures or other wall décor.

Mount wall thermostats used with a baseboard heater on an adjacent wall, if possible. Using another stud bay—one that's not directly above the fan heater—mount the thermostat about five feet above the floor. If you have two or more heaters in a large room, place the thermostat in a central location.
We recommend replacing the thermostat. If it feels hot, it may not be working efficiently, which actually decreases its accuracy. Or, it could indicate an overloaded capacity. However, keep in mind that a normal operating thermostat will feel slightly warmer than the room temperature by about three to five degrees.
Sure. To bypass the built-in thermostat, turn the heater's thermostat to the highest setting, then use the wall thermostat to regulate the room temperature. Be sure to leave the fan/auto switch in the auto position. A wall thermostat is not necessary and should not be used for the CB, Energy Plus or RCP Series heaters.
If your wall heater is cycling on and off every 15 seconds, and you are controlling your heater with a digital thermostat, then likely you need to update one of the thermostat settings.

If you have a TH401, in the Set Up Menu, change the Heating Cycle from "Std" to "Fan".

If you have a TH106, remove the thermostat cover, find Switch 3 and change the factory setting to the right, or the "On" position.

Review the owner's guide for your specific thermostat for additional details.

If your thermostat is set up correctly or you do not have a digital control and your heater is cycling on and off less than every 5 minutes, you might have too much wattage for the size of the room. Contact our Technical Support team at 855-223-3788 for additional troubleshooting help.
Yes. All our electronic wall thermostats can be set to display the temperature in either Celsius or Fahrenheit. This setting instructions will vary depending on the thermostat model, so check the owner's guide for specifics on how to update the display settings. Note: Some of our thermostats default to Celsius, double check the display settings on your thermostat if the temperature does not seem to be displaying correctly.