Smart Father's Day Gift Ideas
6 min read
In John Gray's famous book, Men are from Mars, Women are from Venus, he references to man's need to 'withdraw into the cave.' Now, we're not going to get into psychology - let's just agree that beyond natural tendencies, people may be extra motivated nowadays to carve out a space of their own. Whether you have practical reasons to expand your overall living space or you simply want to spruce up that garage mancave - we have some great Father's Day gift ideas that will quickly transform the space.
Dual-purpose mancaves
'Working from home is a new reality for many people, and not every household is set up with distinct offices for one or more people. Add to those kids of all ages mulling around, and many folks would be happy to find a dedicated workspace that is separate from common living areas. At the same time, dads may be in high gear on DIY projects with fewer options for outside activities and socializing. Maybe a multi-purpose garage is a smart idea for various reasons! Let's take a look at some great products that can help maximize the use of this space.
Step One: Let there be heat.
Regardless of your location, we all have times of the year when the temperatures drop, and that garage is chilly (Don't we sometimes use it as a cooler?). The first step to converting a garage into a usable living space is making sure you have adequate heat. Whether you want to take the chill off on cool mornings or need to keep that garage office viable all season, the Cadet Garage heater fits the bill.
The garage heater can be wall-mounted or ceiling-mounted and features high/low temperatures settings and a high-temperature safety shutoff feature. In colder climates, the Cadet Garage heater is a 240-volt, 4000W heater powerful enough to heat a double garage. Staying comfortable is a smart place to start!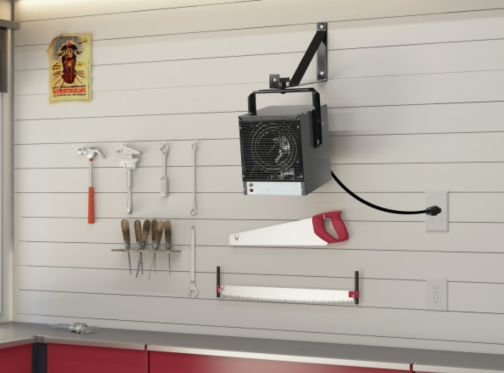 Step Two: Gift ideas for work & play
Multi-purpose Tables
Many health professionals will tell you that sitting too long is bad for our health. Why not consider a space-saving standing desk on wheels? These portable desks are affordable and easy to move around when the office needs to become a garage for the weekend.
And if you'd prefer to combine business with pleasure, this adjustable table with electric outlets checks all the boxes. Workspace. Pub table. Workbench. Check!
And finally, one of the latest, greatest inventions - the lift-top coffee table - which quickly transforms into a workstation with ample storage. You can even find some on wheels or add them if dad is handy!
Flooring Tiles
Adding a new layer of flooring can be very cost effective and quick to install. The extra padding of garage floor tiles makes it more comfortable to stand, adds acoustic absorption for office work, and simply cozies up space. Your local DIY store will have lots of easy-to-install options to choose from, and it might be fun to get the kids involved in this one!
WiFi Booster
With good WiFi, life is better, and the garage can be a pretty dark place - signal strength speaking. If your garage is relatively far from your modem location., here's a link to the top 10 WiFi Boosters under $100. If you need more than a boost, this is a great article on steps to connect with your local WIFI provider for the most up-to-date options for improving WiFi in your garage given physical obstructions like extra thick walls, concrete, etc.
Folding Chairs
Tired of sitting on the cooler? Why not try some folding high-top or bar stools to make the garage a place where you and your family and a few socially distanced guests can be comfortable? Many options are lightweight and foldable chairs are easy to store when you need to use the space for DIY projects. Let your budget be your guide here - you can find options for under $30.
With any new project, there are several factors to consider; the most important part is to make it fun and enjoyable for the whole family. At Glen Dimplex Americas, we provide ourselves with quality products built to last for years, and whether it's the Cadet Garage heater or the Dimplex Long Wave Radiant Indoor/Outdoor Heater, we are here to help. And, we hope you have some family fun planning a new and improved man cave for dad this year. For garage conversion inspiration, Pinterest is a wonderful source. And for more information on our Cadet heaters, please check out all of our products online.
View the Cadet Garage heater or check out Garage heater options from our sister company Dimplex.