Heat a Cold Garage Shop With Electric Heat
3 min read
Wondering how to heat a garage, workshop, or detached building? An electric garage heater is an energy-efficient way to combat the cold. And, when it comes to your electric garage heating options,  The Cadet CGWH Garage/Workshop Heater is a fantastic choice.
The CGWH is an electric heater that uses a 240-volt or 4000 watt plug and can sit on the floor or can be mounted on the wall of your work area to save you space while it keeps you warm.
Your to-do list doesn't stop when the temperatures drop. So why spend your hours sanding, sawing, and fixing in the cold? Put your garage heater to work when you start your next woodworking, car, or home improvement project.
We think you deserve to be comfortable while you take on those DIY projects, auto repairs, or just a great space to get some r&r.
YouTuber uses CGWH Heater to heat his wood shop
Don't just take our word for it. Johnny Brooke, our friend over at Crafted Workshop, with Cadet's  CGWH Heater when looking for a way to heat his woodshop during the winter. Many of his DIY projects (such as drying sealant) benefit from warmer conditions, so it was crucial that Johnny warmed up his shop, in order for him to preform his DIY projects. The Cadet CGWH fits the bill perfectly as,
"This heater has been able to heat up my shop really effectively," Brooke said.
Electric heat uses 100 percent of its energy towards warming your space, which makes efficiency one of the main advantages of electric heat.
There's a lot to like when it comes to The Cadet CGWH Heater , it's:
 Electric - to heat your space efficiently

 Easy to install – uses a 240-volt or 4000 watt plug and can sit on the floor or be installed on a wall/ceiling

 Durable – stainless steel heating element and a high-performance motor deliver reliable comfort to handle the rugged shop life

 Quick to heat up – to get you back to work sooner

Made in the USA – and proud of it!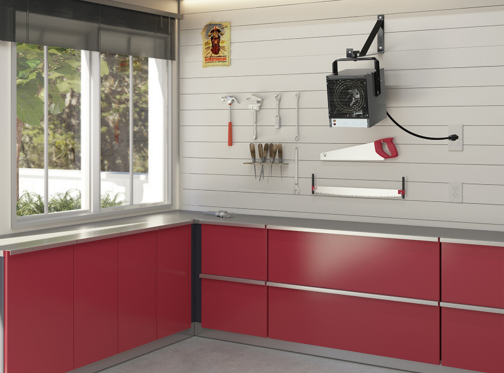 Why Does My Wall Heater Turn On and Off Often?
2 mins read