How to Add Heat to a Cold Room
4 min read
Do you have a cold room in your house that drives you crazy? You're not alone. Energy Star says temperature differences between rooms is common, especially in attics, basements, additions and rooms over garages. This can leave one or more rooms uncomfortably cold in the winter time. Sometimes a few easy changes can fix the issue. If not, it's probably time to consider adding an additional heat source to your room.
The first thing you need to do is figure out how your cold rooms is are currently heated. The infographic above (from the Department of Energy) gives you an overview of the most common heating systems in the United States. Some systems are easier to fix than others. For instance, if you have electric baseboards throughout your home, you can just add more baseboards to a cold room without it affecting the rest of the system. If you have central forced air, your options to make modifications to the system are a little more limited.
Why Space heaters are an option but we do not recommend
A lot of people will immediately think of adding a plug-in, portable space heater to a room that need a little boost of heat in winter months. That's certainly what these products are designed for, but there are a few disadvantages, especially if you're going to be using it on a pretty regular basis. For one, the cords on these plug in heaters can be a tripping hazard. And more importantly, if you trip on the cord the heater can tip over and become a fire hazard. Space heaters also tend to be a little bit like a portable fan. They're pretty effective if you're sitting or standing right in front of one, but they're not particularly great at spreading the warmth around an entire room. A permanent solution can give you extra piece of mind.
A Better Alternative to Space Heaters
When heat is the main driver for a solution, a space heaters seems like the obvious solution, but often will become an eye soar or worse hazard in the home. Here are three great alternative to space heaters:
1. Wall Heater
In our opinion, wall heaters are a better alternative to space heaters because they can heat an area/place much more effectively and efficiently. Furthermore, wall heaters do not have any visible cables or cords, there are no tripping dangers. The are often higher up on the wall to allow for better air circulation and most have an optional thermostat which allows for additional cost- and energy-savings.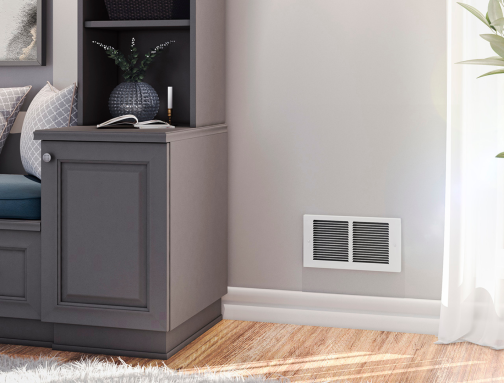 2. BaseBoard Heater
Similar to a wall heater, a baseboard heater is easily to install, allows greater control over the temperature of the room and blends seamlessly into the existing decor - giving you much needed heat without taking up any floor space.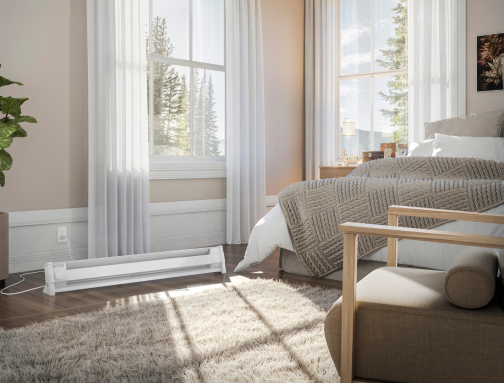 3. Wall-mounted Electric Fireplace
Adding an electric Fireplace will not only enhance any room but is also an excellent source of auxiliary heat. And when in the off-season you can still enjoy the ambiance with or without heater. Dimplex Winslow Wall-mounted Fireplace comes with a built in thermostat so you can control the room temperature as well as timer and many more features. Alternatively, you can do a build in Fireplace too and gain all the same benefits as all Dimplex Fireplaces have controls for heat.