Why Electric Heat is A Great Option for Your Cottage
4 min read
Do you have a wood-burning fireplace in your cottage? Considering alternative options for heat?
Mike and Julie from Minnesota recently installed electric heaters to provide heat in their winter cottage, which was previously heated by a central fireplace. The electric heaters were easy to install and didn't require extensive remodels of the cottage. Mike and Julie spent the past few years looking for a solution to bring reliable heat into their two Minnesota homes: one being a winter residence and the other a summer cottage.
The winter residence had a fireplace as the only heat source, which Mike and Julie would live in all winter. The other, which is used April through November, had no heat source.
"It's been such a stumbling block for the past few years — how to heat this place without spending a lot of money," Julie said.
Cottage heating options:
Adding ductwork wasn't an option because of how the cottage and additions were built. They also looked at ductless mini splits, but those would take up a lot of the limited wall space.
"We wanted to have a good way to heat the cottage without having to do a major overhaul of the place to accommodate a furnace and ducts," Julie explains.
They also tried plug-in space heaters.
"They just didn't cut it," she said. "If you sat right in front of them, it was nice, but they never heated the entire room."
Heating solution
After a long search, a friend told Mike and Julie about Cadet's baseboards and wall heaters. They soon made a trip to their local home renovations store (you can find Cadet at several Home Improvement stores across the country) and returned with two baseboard heaters ready to install. The installation was simple, and within 24 hours, Mike and Julie were enjoying a beautiful warm cottage.
They loved the easy installation and noise-free heaters so much that they installed them in their summer cottage, extending the use of their second home.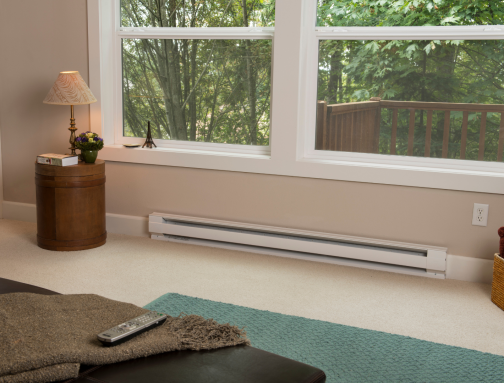 Benefits of Cadets Heaters:
They're easy to install.

Don't require any major changes to the home.

Don't take up much wall space.

They provide a reliable source of heat in each individual room.
Over the winter, Mike and Julie reported the temperature was -17° F outside. Inside, the cabin was in the upper 60s.
"The heaters worked great," Julie said. "Everyone was comfortable, and we didn't have to get up in the middle of the night to stoke the fire."
"We're extremely happy with them," she said. "I can't say it enough."
If you're interested in learning more about Cadet heaters, check out the full baseboard and wall heaters.