Choosing the Perfect Electric Heaters for Tiny Homes and RVs
9 min read
A great opportunity to work and play in a new world!
Going Mobile! A great way to get outdoors!
Perhaps a mobile lifestyle, where you take the comfort and privacy of home with you, is the way to go - whether you are going minimalist for stay-cations in your tiny house or planning more time exploring through RV living. Wherever your small space on wheels takes you, we're sure you'd like to bring along the warmth of your home. As experts in electric heat, we're sharing the key benefits of choosing electric and will recommend the best heating products for small spaces to keep you comfortable all year or simply to extend your summer season.
Why go electric for tiny living? Let's be practical. Tiny home design shows are addictive, and with RVs taking glamping to a new level, it is easy to get excited about the look and feel of these experiences. However, there are more practical considerations for mobile living - especially for those in four-season regions. For example: checking the safety and efficiency of your heater. In this article, we will lay out the reasons why electric is a smart choice for outdoor living spaces.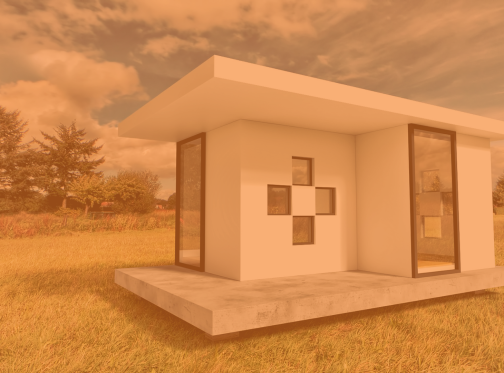 Accessible and Cost Effective
Relying on wood or propane sources obviously requires more work. Everyone loves a wood-burning stove, but imagine the daily logistics of getting wood, preparing it and waiting for the heat to get going, and this doesn't include the maintenance or clean-up. While propane is a necessary backup for RVs, nothing is easier than plugging in and flipping a switch - especially after a long day of driving or adventure!
Electrical power is the easiest to access for tiny homes on grid and at RV campgrounds. Many tiny homes are stationary, like getaways or alternatives to larger homes. If you plan to live off-grid, electric heaters are still an efficient and worry-free option if you opt for solar-powered storage batteries. For RVs, many campgrounds offer a flat rate for full-service hookups, including electric, so it makes sense to save the propane you need while mobile and enjoy the greater warmth and convenience of electric heating.
Adjustable, precise heat where and when you need it
Setting up the right amount of heat is critical for a small dwelling. Too much heat means you are constantly opening windows, while too little leaves you and your family uncomfortable. BTUs is a standard measurement unit that helps us size the right heat output for our space. You can find easy-to-use BTU calculators online or talk with your builder or DIY store professional to get their advice considering your space size and configuration. With electric heaters, the BTU output is well-defined, and precise thermostat control gives you more efficient heating. It is much more difficult to control the heat output of wood and propane heaters, particularly if you just want to take the chill away. You have maximum control and flexibility to set your comfort level with electricity.
Easy to incorporate with space-saving options
If you are building new, it is a straightforward activity to plan the location of the heaters for your tiny house when you do your electrical plan. We recommend that you start with your main living area and also consider those spaces where you want temporary heat boosts, like the bathroom or near the doors. For RVs, aftermarket heating is also easy to incorporate. With space always at a premium in tiny homes and RVs, our built-in electric heaters mean no cords or loss of valuable floor space. Our low-profile (slim) wall-mounted heaters and discrete kick space heaters are great options that can be installed in cabinetry, kitchen islands, or under cabinets.
Simple, safe and maintenance free
Cadet electric heaters are designed for easy, everyday use at the flip of a switch, push of a button or turn of a dial; compare that to chopping wood or lugging propane tanks. Plus, you can enjoy thermostat-controlled heat for consistent comfort, including lower settings for nighttime or when you're away. (For those of us in cold climates, these automatic settings can prevent winter damage like frozen pipes). Electric heaters are also more out of the way and you certainly don't have the clearance issues or safety concerns that come with a wood-burning stove. With electricity, there are no combustibles, no emissions and no maintenance.
What you should know about voltage when selecting an electric heater for your mobile or tiny home
ADUs (Accessory Dwelling Unit)
ADUs or small secondary dwellings on the main property are becoming increasingly popular. These small homes - in backyards, in basements or above garages - have access to normal 240V residential service (and a perk if you would like a normal-sized oven or dryer!). So if you are building or renovating an ADU with regular service, you should select 240V heater models.
Remote tiny homes & RVs
The typical remote tiny house electrical setup has a 30-amp RV plug or twist-lock 120-volt input. While normal houses have 240V wiring, tiny houses and RVs are normally 120V. We also recommend 8.3-amp heaters on a 120-volt system. The following Cadet products are 120V models (and most are available in 240V if needed). These amazing electric heaters offer quick, quiet, reliable, and cost-effective heat: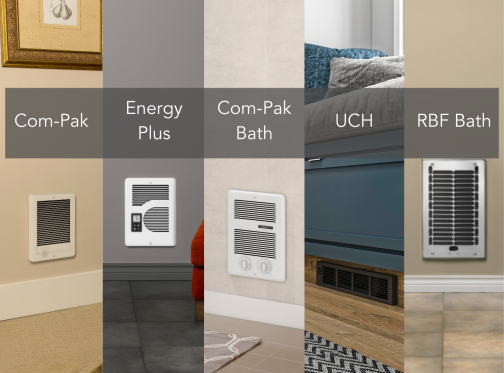 Which heater would suit each room best
Main Living Areas
Even within a small living space, heating all the key spots can be tricky. You can install a combination of wall and under cabinet, heaters to provide a seamless experience.
This versatile, space-saving wall heater can be installed horizontally or vertically and provides quick, efficient and quiet heat (1000 watts). Includes built-in dial thermostat.
A discrete, kickspace heater installs under cabinets; a kitchen island is an ideal central location (1000 watts). Requires a separate thermostat.
This smart heater uses up to 30% less energy by automatically adjusting wattage and fan speed; it features a built-in digital thermostat and a Night/Away button to pre-set a secondary lower temperature (1000 watts).
Bathrooms/Entry
These heaters are designed to work in compact spaces and provide instant heat where and when you need it the most.
A stylish stainless-steel front, this compact heater provides gentle, even and quiet heat (1000 watts) and an easy-to-use on/off switch.
Set the timer and say goodbye to chilling mornings; the Com-Pak Bath is low profile and features a built-in thermostat and 60-minute auto timer (1000W).
Electric heaters are a great choice for mobile homes and tiny homes. The space-saving and accessibility alone make for a very compelling argument. Add to that the safety and the efficiency, and you have an easy decision ahead of you. However, you will want to make sure to obtain the required permits from your municipality and comply with all building codes that apply to your area.
Check out our electric heaters so you can get out and experience the world this season.